Simon Baker and Daughter Love Gossip Girl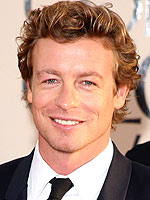 Jason Merritt/Getty
Most people have a guilty pleasure and it turns out that actor Simon Baker and his 15-year-old daughter Stella Breeze share the same one — Gossip Girl! The star of CBS hit show The Mentalist explains that because his oldest works hard on her school work, the show is "the one thing she's allowed to watch on a weeknight." Simon says he "sit[s] in bed and watch[es] it with my daughter," laughing about the over-the-top storylines. "It's a guilty pleasure," he admits. Don't worry though — "We don't use Gossip Girl as a reference point for our relationship. It's just hard candy," notes Simon.
The 39-year-old actor loves being a father to Stella and sons Claude Blue, 9, and Harry Friday, 7, and believes that the best part of being a dad is "just being involved in the experience."
"I love having a family. Watching them grow and develop, share ideas and thoughts, is amazing."
Simon is married to Australian actress Rebecca Rigg.
Source: OK! Magazine