Sam Mendes Says Fatherhood Sets Him Free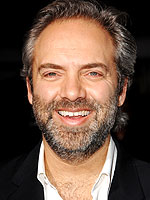 Steve Granitz/WireImage
In his mid-30s, director Sam Mendes, 43, lacked self-confidence, finding himself preoccupied by the thought of what others thought about him and his work. Wife Kate Winslet changed all that, however, he tells W magazine. "She said, 'Don't make such a fuss about what people think. Do you like it? Then do it!'" he explains. "Now I feel much freer." Step-daughter Mia Honey, 8, and son Joe Alfie, 5, have only solidified his new-found sense of personal freedom. Adds Sam,
"That's the thing about having a family. When you've got kids, you become so aware of how lucky you are. What's the worst that can happen? You get bad reviews. So f–king what? And then you do another show."
When it comes to paternal role models Sam notes that he doesn't really have one, having been raised by a single mom after his parents divorced when he was three. When asked how Joe's upbringing has differed from his own, Sam replies, "Well, I'm in the house, for one thing." He adds,
"I love my father very much, but it wasn't the relationship you have when you take your kid to school in the mornings and pick him up or put him to bed every night, as I do with my son. So it's uncharted territory for me."
Mia is Kate's daughter from a previous marriage. Sam and Kate's new film Revolutionary Road — their first together — is in select theaters now.
Source: W