Lance Armstrong Tries to Get Down to Kids' Level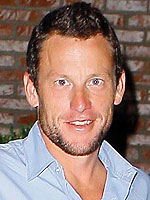 Flynet
Lance Armstrong has accomplished numerous things during his life, including successfully fighting cancer, but the cyclist believes that "being a parent is the most challenging thing you'll ever do and the biggest responsibility." To help him, Lance looks back on the relationship he had with his mom to help him with son Luke, 9, and twin daughters Isabelle and Grace, 7. "I try to be friendly with my kids," notes Lance, adding that "I'm their father and they're my kids, but I try to get down to their level quite a bit and be silly and goofy with them and let them view me as a buddy." Making life even more interesting for Lance is the fact that the kids spend part of their time with their mom Kristin Richard.
"It's fun to see them evolve and grow and it's interesting too because they split time between me and their mom. So they'll go back to their mom for four days and come back and they're doing something completely different. They learned to ride their bikes over here, and they go back to her house and say, 'Hey, we're riding bikes.' But over there they learn how to tie their shoes and they come back over here and I've missed that."
The 37-year-old recently announced that he and girlfriend Anne Hansen are expecting their first child together in June.
Source: Outside Online