Brendan Fraser Tells Sons He 'Defeats Bad Guys' For a Living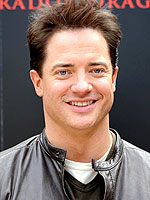 INF
Telling OK! that fatherhood teaches him "how to love more and more every day," Brendan Fraser says that his three sons are not exactly in love with dad's profession — because they're still not entirely sure what it is. Noting that Griffin Arthur, 6, Holden Fletcher, 4 and Leland Francis, 2 ½ are  still "very small," Brendan explains,
"I tell them I'm going to work, and they say 'What do you do, daddy?' 'Well, I defeat bad guys?' 'Wanna take one of my light sabers?' [laughs] 'You know, I want to go work with Han Solo.' What?! Oh, by the way, I just got hired to work with Harrison Ford. Cool! Look at me, I'm turning into one of my kids. Don't tell anyone!"
Brendan's new film Inkheart , rated PG, is "age-appropriate" according to the 40-year-old actor, who adds "that's a good thing." "I know a satisfying experience at the movies with your family is a positive experience," he explains. "There are other films that I've made, and when those kids grow a little bit older, then I'll show them that work or they'll find it themselves. In the end, I don't know an actor who idles very well, so I'm happy to keep my hands and feet busy."
The boys are Brendan's with estranged wife Afton Smith. Inkheart opens Jan. 23.
Source: OK!