Amanda Peet Strives to be a Positive Role Model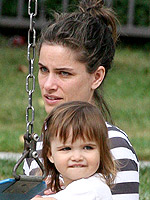 Limelight
Being a good role model is a job that many parents take seriously and actress Amanda Peet is no different. While it's hard for her to balance motherhood to daughter Frances 'Frankie' Pen, 23 months, and her acting career, Amanda tries "to remember that it's better for me to give her a model of striving for a career." The 37-year-old tries "to be selective" about the roles that she takes and "obviously having a husband and a daughter makes it much easier, because it's easy" to walk away from a role. Even though "there's a huge incentive now to walk away from something," Amanda notes, she also believes that now is the time to be working more.
"You know, as [Frankie] gets older, it's only gonna get harder. So I feel like now is sort of the time, while she's kind of not mobile, and she's not in school yet, and she's not super-attached to anybody else yet, other than her father and myself. And her nanny."
Amanda is married to screenwriter David Benioff.
Source: Dark Horizons