Alison Sweeney on Megan's Early Arrival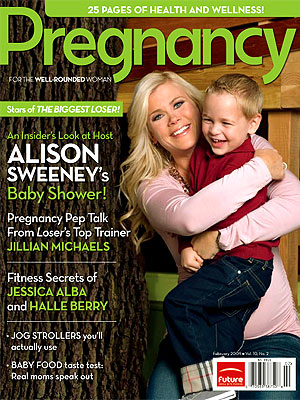 Courtesy Pregnancy
Alison Sweeney's doctor had warned her that second babies tend to come quicker, but she didn't realize how true his words would be when she went into labor with daughter Megan Hope on January 12th. The Biggest Loser host was at work when labor struck and she "had to go right to the hospital after shooting a weigh-in" for the show. After arriving with no food in her stomach, the doctor thought things were moving slowly, telling the actress her daughter may not make her appearance until "4 or 5 a.m."
With that thought in mind, Alison "sent my restless husband [Dave Sanov] off with his friend for a bite to eat. I certainly didn't want them eating in front of me since I wasn't allowed any food — which I didn't know until it was too late. Take note! Eat beforehand!" However, that appeared to be the catalyst to kick start Alison's labor into gear and "he couldn't have been gone 10 minutes, my girlfriend and I were chatting away, and everything happened all at once" for Alison.
"Next thing I know, my friend is texting Dave — hurry back!! And the doctor is saying 'Don't do anything' …  And once he returned, scrubbed in, it wasn't more than 15 minutes later she was born. She did not want to be born on the 13th! Which apparently was a bet between Dave and his buddy."
The Days of Our Lives star became a hit among the nurses in the hospital thanks to her day job. "One of the nurses looking after Megan was a long time Days fan," blogged Alison, adding that the nurse "got such a kick out of telling me about how her colleagues were all doing double takes as they went to put out the latest issue of Pregnancy magazine in their waiting area, only to see their patient on the cover!"
"She brought me a copy — since I hadn't seen it yet — and she was having such fun teasing them all for being star-struck. What timing right? That the mag would be released while I was in the hospital?"
Alison, 32, and Dave are also parents to son Benjamin Edward, 3 ½.
Source: Alison's Blog at NBC