Kathryn Erbe Made Better by Motherhood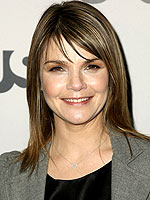 Andrew Walker/Getty
Motherhood has transformed Law and Order: Criminal Intent star Kathryn Erbe, making her "a better person in every way." In a new interview with OK! the 42-year-old actress says that since welcoming daughter Maeve, 13, and son Carson, 5, she's become "much less self-centered" as her attention has instead shifted to her children.
"My heart grows every day through struggling and love of my kids. It helps balance everything else – the work and the world. It helps keep me grounded and in perspective of what is really meaningful to me. It helps me be conscious of the way that I conduct myself in my relationships and in the world."
Her comments came while attending the Year of the Mutt-i-Gree gala on Tuesday in New York City. Last year, Kathryn adopted a dog, Lilah, from the the North Shore Animal League — something which also "changed the whole dynamic of the family."
"It brings everyone together. She's this force of love who does not judge, does not get mad … she just walks around and loves all of us. And when my kids are crying, she immediately goes to them. If they're hurt, she immediately goes to the area where they're hurt. She's an incredibly empathetic being."
Maeve and Carson are Kathryn's children with ex-husband Terry Kinney.
Source: OK!