Julia Ormond Her 'Best Self' Around Daughter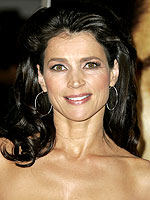 INF
Children are the ultimate motivator for self-improvement, and Julia Ormond's experience as a mom is no different. The 44-year-old actress tells Redbook magazine that 4-year-old Sophie has changed her life profoundly. "She makes me aspire to be the best version of myself that I can be in every moment." Including, it would seem, moments both big and small; When asked her idea of a perfect day, Julia replies,
"Starting the day reading Dr. Seuss while snuggling with my daughter. Nothing beats it."
Sophie even factors into Julia's hopes for the new year. Tops on her to-do list? Teaching Sophie how to "learn to ride a bike solo."
"No pressure, but I remember getting there myself and how exhilarating it was."
Sophie is Julia's daughter with husband Jon Rubin.
Source: Redbook