James Marsden Keeps the Romance Alive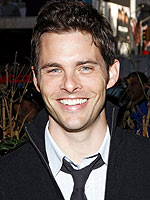 Brian Ach/WireImage
For many new parents, the arrival of children triggers a decline in romance. James Marsden says that his own marriage to Lisa Linde might have suffered a similar fate, but the couple changed their definition of romance instead. "Early on in our relationship, there was lots of serenading on the beach and things like that," the 35-year-old actor jokes. "But once you have kids, it's all about the other stuff."
"My wife thinks I'm romantic if I get up with the crying baby and let her sleep in. Romance is thoughtful acts for someone you love."
Life in Tennessee is going well for the family of four, with the couple's two children — Jack Holden, 7 ½, and Mary James, 3 — subjecting James to classics like Cinderella, Shrek and Toy Story "over and over again." "I could recite those whole movies for you right now," he admits. And while Mary is not yet aware of James' celebrity status, the same cannot be said for Jack, who has an action figure of his dad's character Cyclops in the film X-Men.  Adds James,
"But really, he's really into Spider Man and Pixar movies — Buzz Light year is his guy. No Superman, no X-Men. I think he just assumes that everyone at his school has a dad who's a big superhero."
James and Lisa have been married since 2000.
Source: Daily Record