Broadway Star Kelli O'Hara Announces Pregnancy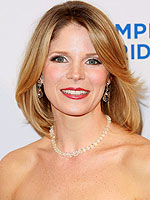 Neilson Barnard/Getty
Broadway star Kelli O'Hara will be taking a break from her performance as Ensign Nellie Forbush in the play South Pacific this March, but she won't be going on vacation. Instead, she and husband Greg Naughton will happily welcome their first child in mid-July. "We are very, very excited," the 32-year-old shares. "Everyone at the show and at Lincoln Center has been so supportive. [Lincoln Center Theater artistic director] Andre Bishop said, 'We're going to throw you a big shower.' All the guys in the cast go out of their way to help me up the stairs."
The pregnancy has been an easy one for Kelli and she continues to perform her character's nightly cartwheel! "It's great for me to stay active because it keeps me feeling well," she explains. To help conceal Kelli's growing belly, South Pacific costume designer Catherine Zuber is redesigning clothes for the star. "For my comfort and also because you don't want to take away from the story," notes Kelli, adding that "I'll get a one-piece [swimsuit] and different skirts."
Since beginning her Broadway career in 2000 in the stage production of Jekyll & Hyde, Kelli has received three Tony nominations, including one this past June for her work in South Pacific.
Kelli's husband Greg is a celebrity baby himself — his father is actor James Naughton.
Source: Broadway
Thanks to CBB reader Erin.