Faith Evans Tells Son 'Fame Costs'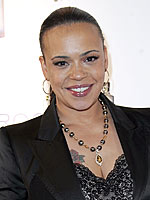 Astrid Stawiarz/WireImage
Notorious — the new biopic of the late Christopher Wallace, aka Notorious B.I.G. — represented a once-in-a-lifetime opportunity for his 12-year-old son Christopher 'CJ' Wallace Jr., says Biggie's widow Faith Evans. That's why CJ was allowed to put his quiet life in California on hold in order to portray his father in the film. "If it wasn't for this project being the project it was, I wouldn't have pulled him out of school," Faith explains. "He thinks he's interested [in being a performer], then every time he remembers that tutor he had on set he goes back to reality."
"He's like, I don't know.' It's fun, but it's still work."
Work indeed! CJ — who also raps on the film's soundtrack in a remixed version of Biggie's hit song 'One More Chance' — has learned that his job isn't necessarily done just because the film has finished shooting. Last Thursday he rang the opening NASDAQ bell while making the rounds to promote the film. Recalls Faith,
"He didn't want to get up that early, but I'm like, 'Uh-uh, baby, you go to work. You want fame? Fame costs.'"
Notorious is in theaters now.
Source: MTV