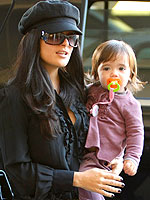 Flynet
During a Tuesday night appearance on the Late Show with David Letterman, Salma Hayek painted a vivid picture of life with her "force of nature" daughter, Valentina Paloma Pinault, 15-months. The 42-year-old actress revealed that Valentina "likes everything clean" — and she isn't shy about making her wishes known! "She doesn't say trash or basura yet, she says 'caca, caca,'" Salma explained. "So she'll go around the house, saying 'Mama, caca!' if there's just a little thing on the floor. 'Caca!' We have to pick it up. 'Mama, caca! Caca!'"
Valentina speaks Spanish, French and English "perfectly," Salma beamed … although some words are delivered more politely than others! She reveals,
"I don't know what she's going to say next. I don't try to force her into words…although I do wish she could say 'thank you' instead of 'WATER!' [Valentina]'s like a dictator in the house. She's bossy."
And exhausting! Because Valentina is a sleepwalker, Salma has assumed the role of "bodyguard" for her daughter at night. "She sleeps well," Salma explained. "She just has too much fun sleeping."
"She talks, she screams, she sings, she claps, she sleepwalks, she screams for Barney, she fights with someone. And when you have a child who sleepwalks, it's really scary. All night I'm waking up and waking up, and she's having a blast. She's having a party, and I'm just not invited."
While pregnant, Salma was "not exactly" hoping for a daughter. "Everybody told me that boys are closer to their mothers than girls, and I just wanted a baby to be so close to me," she explained. Happily, everybody was wrong! "It is the best thing that could have happened to me," Salma admits. "Nobody could be closer than we are. I love her."
Valentina is Salma's daughter with former fiancé François-Henri Pinault.
Source: Late Show with David Letterman