Jennie Garth On Another Baby: 'The Sooner The Better'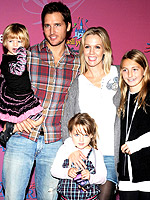 Axelle Woussen/Bauer Griffin
Between two busy careers and three busy children, chaos reigns supreme for actors Jennie Garth and Peter Facinelli. Describing their home as "a zoo" and "a complete cuckoo house," Jennie says she'd nonetheless love to add a fourth child to the mix. "The sooner the better, because I'm not getting any younger," the 36-year-old 90210 star tells OK!, adding,
"Talk to my husband and my mom. They'll tell you hell no, but I say yes — more babies!"
Whether it was the decision to sign on to the original Beverly Hills 90210 or the decision to appear on Dancing With the Stars, Jennie says she has no regrets about the choices she's made, and she hopes daughters Luca Bella, 11, Lola Ray, 6 and Fiona Eve, 2 will adopt a similar mindset as they enter their formative years. "I wouldn't change anything I've done so far — including my mistakes, because they've gotten me to where I am now," she explains. "I want my girls to make mistakes, too."
Of course, making mistakes is easy; Learning from them is a different story entirely. Jennie recalled one recent family outing to a restaurant, where the girls were being "really loud" and disruptive. An unhappy patron asked Jennie to control her children, complaining that the girls were ruining her meal. "My first instinct was to say, 'Don't talk to my kids that way,'" Jennie admits. "But I didn't, and I let her rant. After the meal, I made them go over to the table and say they were sorry." While Peter later asked Jennie why she didn't choose instead to defend the girls, she viewed the situation as an opportunity to teach — and for the girls to learn!
"[I wanted to teach them] to respect their elders, which I think is one of the big things that's wrong with youth today. At bedtime I asked, 'What did you guys learn from what happened?' My 6-year-old said, 'You have to be kind in a restaurant. There are other people there, too.'"
Click below to read about what happens when the tooth fairy visits!
Something else Jennie is eager to impart to the girls is the importance of healthy teeth and gums; To that end, she signed on to be a spokesperson for Trident gum. "I make my own kids brush and floss every morning," she explains. "It takes me standing there like a crazy-mom drill sergeant to make it happen, but they're learning how to take care of themselves."
They're also learning the value of a lost baby tooth! Jennie reveals that the tooth fairy makes regular visits to their home — but he often leaves empty-handed.
"My kids put their teeth under their pillows and the next day there's money. They also collect their teeth after the tooth fairy visits, which is weird. My oldest one has a little jar for them. She takes them out, looks at them and then puts them back on the shelf. What the heck is she going to do with them? I don't know."
Source: OK!