India Hicks Feels 'No Shame' For Hiring Nanny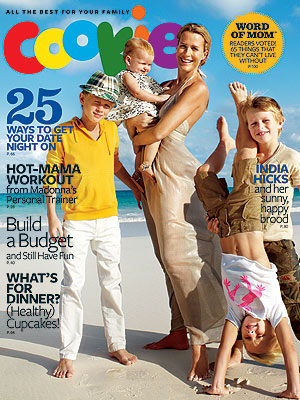 Courtesy Cookie
For Top Design host India Hicks part of living the good life on a small Bahamian island means indulging in a nanny and a housekeeper, and the 41-year-old mom-of-four offers up no apologies! "I have lots of help, and I feel no shame about it," she explains in the February cover story for Cookie magazine. "My kids come to me first…If that changed, I'd realize something was wrong." To that end, despite her numerous professional responsibilities, India balances her day "very carefully" so that when she's with sons Felix Austen, 11 ½, Amory John, 9 ½, Conrad Lorenzo, 5 ½ and daughter Domino Carmen, 13 months, they have "the most loving time."
Admitting that she "spoil[s] them much more than" she herself was spoiled, India describes her parenting style as "very lenient." It's not all fun and games, however. For the last few years, Felix and Amory have attended boarding school in England — leaving India, 41, in tatters. "I miss them unbearably," she says. "It's a physical pain…I hop on and off that plane to London like it's a bus." The difficult decision was reached because "there's a point where you outgrow an island education," she explains. "Especially boys, who need to be socialized and have laboratories, art departments, and playing fields." Their time spent abroad has made return trips to the island all the more special, says India.
"The time I have with my children when they're home on holiday is the perfect honeymoon. And the wonderful thing is, I get to have that honeymoon again and again and again."
Domino is doing her best to break up the boy-centric vibe that prevails in their island home, even with Felix and Amory's departure. "There's a lot of testosterone flowing…our whole house is geared to boys, so its' surprising to see little specks of pink," she reveals. "David keeps looking at her and saying, 'What's that boy doing in a girl's dress?'"
Each of the children are India's with longtime partner David Flint Wood.
Source: Cookie