Bear Grylls Welcomes Son Huckleberry Edward Jocelyne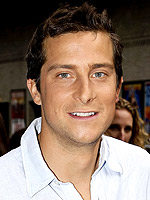 Brian Ach/WireImage
It's a third baby boy for Bear Grylls and wife Shara! The couple welcomed son Huckleberry Edward Jocelyne Grylls on Thursday, January 15th in the UK. Huck, as they plan to call him, weighed in at 7 lbs., 7 oz and joins big brothers Marmaduke, 2 ½, and Jesse, 5 ½. When asked about the unique choice of names for his boys, the Man vs. Wild star, 34, laughed and told CBB,
"Jesse, Duke and Huck! Won't that be great when they're 18?!"
Bear and Shara have been married for eight years and announced the pregnancy in November. Man vs. Wild airs Mondays at 10 p.m. on the Discovery Channel.
Source: PEOPLE