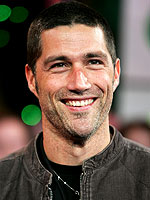 Scott Gries/Getty
Sometimes the apple really doesn't fall far from the tree. Lost star Matthew Fox says that his lifetime love affair with cars has been passed on to his son Byron, 7. Calling cars "part of our genetic makeup," the 42-year-old actor shares in the latest issue of Details magazine that Byron "does the sound effects and everything" while playing with his collection of Matchbox cars. Matthew adds,
"He dressed up as Racer X for Halloween. One of the highlights of my life."
Next up for the family of four — which includes Matthew's wife of 17 years, Margherita, and the couple's daughter Kyle Allison, 10 – is a move from Hawaii to Oregon. After experiencing island life Matthew says he's ready to move closer to home. "My brother is there, my mother is there," Matthew explains. "I really miss that kind of wide-open space, and there's a big part of me that wants the kids to live in that mountain air."
The fifth season of Lost premieres January 21 at 8 p.m. on ABC.
Source: Details