Chazz Palminteri Says Success as a Father is All That Matters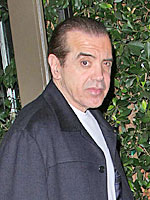 Neill J. Schutzer/Ramey
For Chazz Palminteri, no amount of professional success can compare to success as a father. "In life — and people might disagree with me on this — but I feel if you're a failure as a father, I think that's hard to take," the 56-year-old actor tells OK!"If you're a success in all of your life but you're a failure as a father, that's a real big knock on you." To that end, Chazz says that his two children will forever be the priority. "Fatherhood has changed me," he admits. "It's made me more responsible."
"It's not just me I have to worry about. It's not just me and my wife – it's these kids that walk around and look at you and go 'Daddy, what's up? What's going on dad? Are you going to pay for my college? Can I have a car? Can I have this? Can I have that?' You can't let them down."
While both Dante Lorenzo, 13, and Gabriella Rose, 7, love sports, they also love show business, Chazz reveals. Dante enjoys playing guitar and piano, prompting Chazz to quip "he's like a rock star." Meanwhile, both children enjoy acting as well. "I have two kids here who want to be in the business," Chazz says. "That's okay — I'll help them as much as I can, and then it's up to them to decide whether they want to do it." One thing he won't negotiate on is college, however. "They have to go," he says, adding,
"Once they graduate college, they can do whatever they want, but they can never do drugs. If you fool around with drugs, sooner or later you will go down. That's an absolute rule. You've gotta graduate from college. It will give them a well-roundedness that you need in dealing with people. Anytime you get an education – the discipline of an education, and what you have to do to get it — I think helps you as you get older."
Dante and Gabriella are Chazz's children with wife Gianna Ranaudo. His new movie Yonkers Joe is in theaters now.
Source: OK!