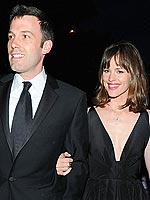 Clark Kent/Startraks
Jennifer Garner and Ben Affleck have chosen the name Seraphina Rose Elizabeth Affleck for their 7-day-old daughter, Jennifer's rep tells PEOPLE exclusively.
Born January 6th in Los Angeles, Seraphina joins older sister Violet Anne, 3 — who proudly wore a tee advertising her new status out and about yesterday — at home.
Source: PEOPLE
Click below to see what Linda from NameBerry says about Seraphina, ranked #4047 at BabyCenter.com!
"I think they've made a wonderful choice, especially by pulling off the difficult trick of finding an appealing, non-weird name that hasn't appeared on the Top 1000 list in the past century — a choice that surprised everyone. It's a name that could start to catch on, as sister Violet's has — and in this case there will be no doubt of the inspiration! Seraphina comes from the Hebrew word seraphim, the name of an order of winged angels — the highest angels in heaven — and is also a saint's name. It's feminine, elegant, rhythmic and spirited — quite different in feel from the more demure sister Violet's name.

The Afflecks have followed one current trend though, by using two middle names rather than one — most likely with some family connection — one of which is a flower name like her sister's.

In different variations, Serafina does have some cultural references.  Spelled Serafina, it was the name of the passionate heroine of the Tennessee Williams play The Rose Tattoo, and more recently it was the character played by Eva Green in the movie The Golden Compass. It's also reminiscent of Sarafina, the hit South African musical that played on Broadway in the 90s. On a personal note, it's a name we picked as a recommended author's favorite in our book The Baby Name Bible."