Amy Poehler Credits Sleepless Nights for Weight Loss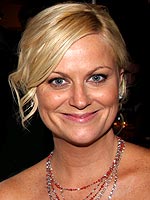 J.H.Saunders/Landov
Looking svelte in a Pamela Rolland gown at Sunday's Golden Globe Awards, new mom Amy Poehler is quick to downplay her appearance, telling PEOPLE that "with a 2-month-old, it's nice that something fits."  That sense of humility is on full display when the 37-year-old actress is asked about how she's returned to pre-baby form so soon after welcoming son Archibald 'Archie' William Emerson, 11 ½-weeks. "Not sleeping!" she says. "I was going to say 'running around,' but that would be a lie."
Fortunately, it appears as though all those sleepless nights are at the very least being spent with someone she adores. Adds Amy,
"It's amazing. He's a sweet boy. Archie's the best."
Having recently retired from the cast of Saturday Night Live after seven seasons, she is looking forward to her new NBC sitcom which starts shooting next month and begins airing in April. "I think Archie's going to think the show is going to be really funny," Amy says.
Archie is Amy's son with husband Will Arnett.
Source: PEOPLE