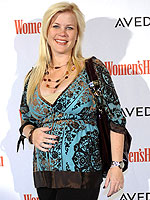 Stefanie Keenan/Wireimage
It's a girl for Biggest Loser host Alison Sweeney! Megan Hope Sanov arrived at 11:48 p.m. on Monday, January 12th, Alison's rep confirms. Megan weighed in at 6 lbs., 7 oz and was eight days early — Alison had been due January 20th. Her rep shared,
"Alison's still in hair and makeup from her day on the set! It was a very easy delivery, and everybody is great. Both mommy and baby – and daddy, too – are doing well."
Earlier in the week, Alison blogged that she was trying to prepare for the birth after "a firm conversation [from my doctor] about how second children very frequently come quicker and earlier than first." However, "even with nine months to think about it, it isn't really real to me yet. Ben seems way better prepared for his baby sister than Dave and I are!"
The Days of Our Lives star and husband Dave Sanov announced the pregnancy in June. Megan joins big brother Benjamin Edward, 3 ½.
Source: PEOPLE