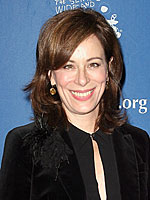 Valerie Macon/Getty
Actress Jane Kaczmarek knows all too well that a carefully crafted fib can yield surprisingly good results. She's gone on record with her method for getting her three children with husband Bradley Whitford — Frances, 11, George, 9 and Mary Louisa, 6 – in and out of FAO Schwarz incident-free, and in a recent appearance on The Bonnie Hunt Show she revealed even more tricks of the trade. While some parents use Santa for leverage, Jane and Bradley use the Easter Bunny!
"They were having a fit about [getting dressed for] some pictures, and I said, 'I'll just call the Easter Bunny and say 'You know what? Don't bring the baskets this year.' And they said, 'Alright, I'll put it on! I'll put it on!"
Jane, 53, went on to share that while the kids aren't allowed to listen to American rap music, she does let them indulge in Polish rap music. "It's Polish and you can't understand a word that's being said," she joked.
Source: The Bonnie Hunt Show