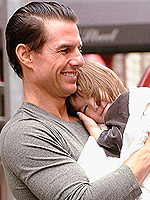 NY Team/Most Wanted
Try as they might, Tom Cruise and Katie Holmes can't seem to keep their 2 ½-year-old daughter Suri from the spotlight. At no time was that more apparent than during a recent performance of Katie's Broadway smash All My Sons. Tom — who has famously attended the show more than 20 times — was watching from the wings with Suri, when he noticed her tiny feet slowly making their way towards the stage. "I say, 'Sweetheart, stay right here,'" the 46-year-old actor recalled during a Friday appearance on The View. "She turns to me and sort of taps my hand away, and I realize, she's going to go on stage."
"Everyone is acting! So then she [got down on hands and knees and] was going to crawl out on stage. At a certain point she's crawling, and I'm holding on to her dress, just quietly, because I don't want her to say anything too loud. And so I finally just picked her up and said, 'You can't go on stage.' And she goes, 'Why?' [I should have said] 'you can't go on stage yet.'"
New Years Eve for Tom, Katie and Suri was spent quietly at home, and Christmas was "low-key," he revealed. "It was more about the giving," he explains. "We never really have the gifts be a big thing." When asked about the public fascination with his youngest daughter — viewed by some as a fashion icon — Tom admitted that he is torn. "It's both very flattering … and you kind of go, 'It is what it is,' he says. "We all think our children are incredible, and I feel that way about all three of my kids." That was about as much information as Tom was allowed to divulge with regard to 16-year-old Isabella Jane and 13 ½-year-old Connor Antony, however!
"I've been given very strict instructions not to discuss their personal lives. The kids are to this point where they're just like, 'Dad, don't talk about my life.' [Bella]'s a good girl…I feel lucky to have the teenagers, and Suri."
Bella and Connor are Tom's children with ex-wife Nicole Kidman. Valkyrie, Tom's latest film, is in theaters now.
Source: The View