Paparazzi Make it Harder for Isla Fisher to Protect Daughter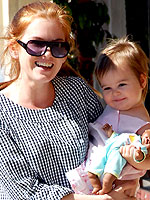 INF
Hollywood stars know that with increased recognition, they run the risk of becoming a target for the paparazzi, but for actress Isla Fisher, the issue has taken on a new meaning now that she is mom to 15-month-old daughter Olive. "With the paparazzi it's really difficult," the protective mom explains. "You make decisions during your day based on how much privacy you can get for your child, and when you're protecting a tiny person from scary men swarming around them with massive black things in their face screaming their name, it takes on a whole new thing."
Being cautious around photographers only seems natural for the 32-year-old, who believes Olive to be "by far my greatest accomplishment." Olive's dad, actor Sacha Baron Cohen, is the "love of my life," notes Isla, but says the love that she has for her child is something that she never imagined.
"Love is an incredible gift if you're lucky enough to receive it and give it. But then having a baby is another whole level of love."
The Australian actress quickly shed her pregnancy weight after giving birth to Olive — but not with exercise. In fact, it was just the opposite. "You know that point where somebody working out starts to feel tired? Apparently, you get this second wind and you start to sweat, and that's when you get addicted. But for me, that's the point that I get off and have a cup of tea and a slice of cake," laughed Isla.
Isla's new movie, Confessions of a Shopaholic, is in theaters February 13th.
Source: InStyle UK