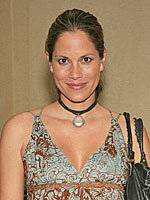 T. Conrad/AdMedia
The Mentalist's Maxine Bahns, who plays Simon Baker's wife on the CBS drama, is pregnant with her first child, a baby girl. Due at the end of February, "I'm very excited," the actress shares. "The whole pregnancy has been amazing and I can't wait to love this baby."
Having prepped with baby care and breastfeeding classes, Maxine and her husband, professional adventure racer Patrick Watson, have already settled on a name as well: Madison Rose.
"I love the nickname Maddie. And my husband's mom's name is Rosemary, so we wanted to honor her by giving our daughter the name Rose."
"I'm ready to be a mom," explains Maxine, 37. "I've been around the world a few times and I've waited a little longer, so this feels like the right time. My husband is the first man I've ever met that I truly felt I wanted to have a child with. I can't wait to meet our baby."
The Mentalist airs Tuesdays at 9 p.m. on CBS.
Source: PEOPLE