Lucy Lawless' Kids Are Ready for Her to Work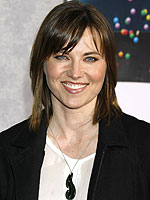 Flynet
Lucy Lawless knew that the time would come when her kids — Daisy, 20, Julius Robert Bay, 9, and Judah Miro, 6 ½ — wouldn't need her at home as much at anymore, but she didn't realize that they would be so vocal about her returning to work! The former Xena: Warrior Princess star signed on for the film Bedtime Stories in part to get out of the house — but she then realized that she "thinks that's what the kids wanted" also.
"I was in my middle child's room the other night, irritating him with all these facts about chameleons, and he just asked me to leave the room. And the youngest one has repeatedly begged me to go back to work because he's quite interested in television and films and thinks I might be able to introduce him to someone famous."
Now that "my kids are relinquishing me and I'm ready to go back to work," Lucy cannot wait to sign on for more projects, she reveals. Julius and Judah's father is Lucy's husband, film producer Robert Tapert. Daisy's dad is Garth Lawless.
Bedtime Stories is in theaters now.
Source: The New Zealand Herald