Kate Hudson Dishes On Ryder's 'Old School' Birthday Party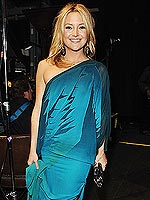 Frazer Harrison/Getty
On Wednesday Ryder Russell Robinson celebrated his fifth birthday after school with a Star Wars-themed birthday party, and mom Kate Hudson is hoping he'll be a bit more hands-on with those gifts than he was with the gifts Santa brought him at Christmas! During a recent appearance on Late Night with Conan O'Brien, the 29-year-old actress revealed that Ryder was so enamored with one present in particular, he still can't bring himself to play with it — choosing instead to admire it from afar.
"He wanted this power tool station. For a year, he was like, 'I want Santa to give me a power tool station.' So Santa brought him the power tool station…And he hasn't touched it! He just looks at it, like, 'Wow. Power tool station.' I'm like, 'But Ryder, it does stuff! Look at the saw!' And nothing. He just kind of stares at it like, 'Cool.'"
Ryder initially had settled on a Bolt-themed birthday party before deciding to go "old school" with Star Wars, Kate said while walking the red carpet on Wednesday at the People's Choice Awards. During a Monday appearance on Live with Regis and Kelly she marveled at how quickly the last five years have gone, noting that her son has even begun to show an interest in reading and writing. "He's really actually getting good at it," she explains. "And that's when I went, 'Oh, now the spelling things [trick] isn't going to work anymore."
Ryder is Kate's son with ex-husband Chris Robinson; Her new film Bride Wars is in theatres now.
Sources: USA Today, Late Night with Conan O'Brien and Live with Regis and Kelly.