Rebecca Romijn Promises Ana Ortiz Hand-Me-Downs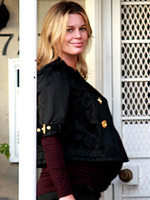 Flynet
Appearing on a television show with so many new parents and parents-to-be is about to pay off in spades for Ana Ortiz, says her Ugly Betty co-star Rebecca Romijn. Having only recently welcomed Dolly Rebecca Rose and Charlie Tamara Tulip last week, Rebecca says she has big things in store for her tiny twins and Ana's baby-on-the-way, due in July. "I'm so happy for Ana," Rebecca tells OK! "She is going to be such an amazing and fun mom." She adds,
"If she has a boy, he's already got two dates for the prom. And if she has a girl, she's about to get a TON of hand-me-downs!"
Ana, 37, is married to Half Life guitarist Noah Lebenzon. Dolly and Charlie are Rebecca's children with husband Jerry O'Connell.
Source: OK!