Naveen Andrews Wins Legal, Physical Custody of Son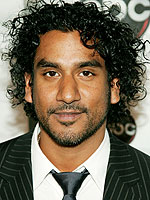 Evan Agostini/Getty
Lost star Naveen Andrews was awarded sole legal and physical custody of his 3-year-old son Naveen Joshua on Wednesday, when a Los Angeles Superior Court judge rejected allegations of wrongdoing levied by the boy's mom, Elena Eustache. Per the terms of the order, Naveen Joshua will be free to travel to and from Hawaii — where the 39-year-old actor shoots the television hit show — with either Naveen or his longtime girlfriend, actress Barbara Hershey.
Naveen sought the hearing to address a trip Elena took with Naveen Joshua outside of Los Angeles County, without his permission. He also claimed that Elena kept Naveen Joshua from him in violation of a previous custody agreement. In response, Elena argued that Barbara engages in witchcraft and that together the couple had attempted to poison her son; An attorney for Naveen requested the court to order a psychiatric evaluation of Elena.
The new custody agreement will remain in place pending a hearing next month. TMZ reports that Naveen Joshua — who arrived at the court with his mom — was removed from her care by a bailiff, and left the building with his father and Barbara.
Source: TMZ