Jill Scott Expecting First Child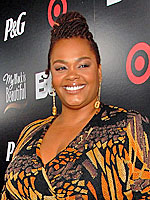 Frank Micelotta/Getty
Why Did I Get Married? star Jill Scott, 36, is pregnant with her first child. The three-time Grammy Award winner and actress made the announcement Friday while promoting HBO's The No. 1 Ladies Detective Agency, which she filmed during her first trimester — in Botswana! "My doctors gave me a clean bill of health and said you can do this, so I did it," she explains. Not that it was easy! Describing the experience as "one of the biggest challenges" of her life, Jill adds,
"First trimester! You're sick every morning. It was seven hours time difference, the heat, the bugs, the 14 hour days."
Baby-on-the-way is due April 25th, and will also be the first for Jill's fiancé, drummer Lil' John Roberts.
No. 1 Ladies Detective Agency airs in March.
Source: PEOPLE