Alison Sweeney Not Ready for Daughter's Arrival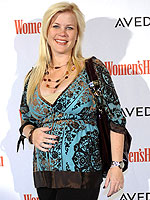 Stefanie Keenan/Wireimage
Expectant mom Alison Sweeney better get a move on if she wants to be ready for her daughter's expected arrival date of January 20th. The Biggest Loser host recently blogged that between "production schedules and then the holiday rush, I seriously haven't even bought diapers yet."
Alison has yet to pack her bags for the hospital either, despite her doctor having "a firm conversation with me about how second children very frequently come quicker and earlier than first." Even though the actress' 3 ½-year-old son Benjamin Edward arrived on his due date, Alison is trying to take her doctor's advice and prepare herself for her daughter's possible early arrival.
"But even with nine months to think about it, (she's kicking me right now as if to say 'Yup! I'm coming, Mom!') it isn't really real to me yet. Ben seems way better prepared for his baby sister than Dave [Sanov] and I are … Is that normal?!"
Readers can catch Alison on The Biggest Loser on Tuesday nights at 8 p.m. on NBC. This season began filming in September so viewers will be able to catch Alison "growing over the next few months," the soap star notes.
Source: Alison's Blog at NBC