Tim McGraw Says Daughters Have Him Wrapped Around Their Fingers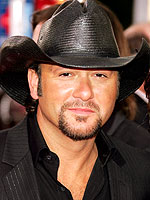 Kevin Winter/Getty
When it comes to embracing life with three daughters, Tim McGraw is leading the charge. In a new interview with Family Circle the 41-year-old country singer reveals that Gracie Katherine, 11, Maggie Elizabeth, 10 and Audrey Caroline, 7, have their dad so "wrapped around their little fingers" he even goes where few men would be willing to go! "We … play dress up and I let them put make up on me," Tim says. "But even if we're grocery shopping it's still a good time."
While wife Faith Hill would go so far as to call Tim a pushover for the girls, Tim begs to differ. He does admit, however, that he's already begun contemplating — and dreading — the girls' teenage years.
"I've jokingly told my friends who have sons the same age as Gracie that I'm going to hit the nicest boy of the bunch right off the bat. So when he goes to school with a black eye, all of the other boys will see that I've punched the nicest one and they'll be scared to death of me."
Tim and Faith have been married since 1996.
Source: Family Circle