Liev Schreiber: 'There's Something to Be Said for Silliness'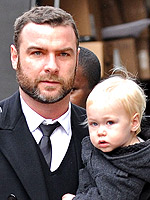 Asadorian-Mejia/Splash News Online
It's not all doom and gloom for Liev Schreiber! While the 41-year-old actor has made a name for himself by choosing  "difficult, intense" roles on the big screen and on the stage, behind closed doors his life as a father of two has given him some much-needed lightness. He tells Parade that the most fun he has with 17 ½-month-old Alexander 'Sasha' Pete involves a game of pseudo-hide-and-seek, whereby Sasha hides behind the arm of the couch and Liev pretends that he can't see him. "I realize that there's a kind of a divine Buddha truth in that," Liev says. "I should be doing more things where I'm pretending that I can't see my son and making him laugh." He adds,
"That is for me is the brighter side of being a father, that there is something to be said for silliness. My son has given me that."
That's not all Liev credits Sasha and new baby Samuel Kai, 4 weeks, with. The boys have also changed his outlook on career, which he describes as — at one time — "a compulsion."
"But now I've had a child and I have an infant son, so that's changed things a little bit. I think what I need to do is to stop and get some sense of perspective. It's not good for me to work all the time."
Sasha and Samuel are Liev's children with actress Naomi Watts. His new film Defiance opens January 16th.
Source: Parade