Kate Winslet is 'Completely Knackered'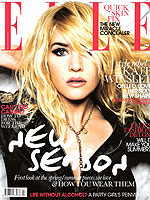 Courtesy ELLE UK
With a happy marriage, two healthy children and a successful career, Kate Winslet admits that her life is "incredible" — but it's no accident. Instead, the 33-year-old actress tells the February issue of ELLE UK her good fortune is the result of  good old-fashioned hard work. "It's the same for any working woman," she adds. "You run and you work, you run and you work, and you try not to let anything drop." In her efforts to keep everything afloat, Kate reveals that she has at least one trusted ally — and it's not a nanny!
"I am 'List Woman' — I make lists constantly. What we're doing, where we are, what needs to be done, should be done, has to be done, shopping, school, work — everything."
Describing herself as "completely knackered," Kate reveals that her husband Sam Mendes often encourages her to relax, but it's a state of being she sometimes struggles to achieve. "The other day I had a morning with nothing to do for the first time in months," she reveals. "So I cleared out [5-year-old] Joe [Alfie]'s wardrobe." Kate makes no apologies for pursuing her career while growing her family, however, which also includes daughter Mia Honey, 8. Calling acting her "passion," she adds,
"When something is a passion, you want to do it to your absolute best ability. Of course you have dilemmas, especially when once you have kids. We try to make sure that one of us is always there at home, and I very rarely work away on location. But I also acknowledge that it's part of me. My marriage, my kids and my work are the three things that make me happy."
Click below to read about Kate's plans to show her children Titanic.
Although their mom co-stars in Titanic, Joe and Mia are yet to see the film — the highest grossing all time.  "Mia's getting older and I do want to watch it with her and Joe," Kate admits. "I have this absolute fear of [Mia] going off on a playdate and seeing Titanic…but I want that to be something we all share as a family." Perhaps the film will even be enough to persuade Mia that Kate's career is noteworthy!
"It's a weird one because she knows what I do for a living, but it's no big deal. I'm there with the other mums at the school gate and, if anything, I'm probably the one who looks the least glamorous."
Mia is Kate's daughter with ex-husband Jim Threapleton; she has been married to Sam since 2003.
Source: ELLE UK