Kate Hudson Predicts She'll Be a 'Bad School Mom'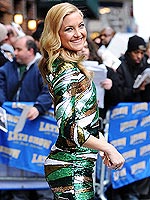 James Devaney/WireImage
From the sound of things, 5-year-old Ryder Russell Robinson's days of being a ski bum have come to an abrupt end. During a Monday night appearance on the Late Show with David Letterman, his mom Kate Hudson revealed that during an annual Christmas holiday in Aspen, Ryder may have bitten off a bit more than he could chew while hitting the slopes. "He had a scare…a big scare," the 29-year-old actress said.
"He came home and was like, 'Mommy! I was on bumps! I went over a jump!' I was just like, 'Wow!' So he was like, 'Then I fell. And I cried.' I said, 'Do you want to go skiing tomorrow?' And he was just done. Done skiing."
That her son was poised to celebrate his fifth birthday in a matter of days at the time of the taping was surreal for Kate. "It's so crazy," she admitted. "He's always kind of been his own person…He came out telling jokes, now they're just getting dirtier." Enrolled in kindergarten, Ryder attends school each day from 9 a.m. to 3 p.m. "He has a lot of school…a lot more than you would think at 5," Kate noted. "It's like applying for MIT or something." What's more, if Ryder doesn't stay for the entire day the school "gets upset." Kate joked,
"I was not a good student anyway. I didn't like school, so I don't blame him for not wanting to go. I'm going to be a bad school mom."
Ryder is Kate's son with ex-husband Chris Robinson. Her new film Bride Wars opens Friday.
Source: Late Show with David Letterman