Happy Birthday Zahara Marley Jolie-Pitt!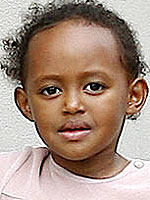 DS-ISM/LA-Tom/Flynet
Happy Birthday Zahara Marley Jolie-Pitt! This confident cutie is 4 years old today. The first daughter of actors Angelina Jolie and Brad Pitt — adopted by them in July of 2005 — Zahara has spent most of her life in the limelight. Whether pointing at the paparazzi while on her way to school or traveling the globe with her five siblings, Zahara always has an inquisitive expression on her face and a loving parent at her side. Now, as big sister to a brother and two sisters (and little sister to Maddox Chivan, 7, and Pax Thien, 5), Zahara's family role is changing — she's even taking care of diaper duty! We look forward to watching her jet-set with her family for years to come!