Cindy Crawford Says Being the Enforcer is 'a Drag'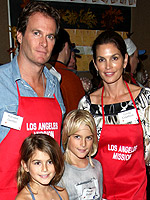 INF
Despite her fame and fortune Cindy Crawford remains an earnest Midwesterner at heart, but the conflict between the two has led to an "inner struggle" over how best to raise her two children. During a Tuesday appearance on The Rachael Ray Show, the 42-year-old supermodel admitted that — for example — she sees the hypocrisy in forcing Presley Walker, 9, and Kaia Jordan, 7, to make their beds when she has a housekeeper to make her own. "It's kind of like, a fake chore, to say 'You have to make your bed,'" she explains. "But what does make sense is giving them something to do, a job that's unique and uses their skills that can kind of be their chore." To that end, Cindy and husband Rande Gerber have appointed Presley the "family archivist," putting him in charge of taking and storing the family photographs.
"That's using his unique skills as opposed to just making the bed…But as a Midwesterner, I [still] want my kid to be able to make his bed and do laundry when he goes off to college!"
Singling herself out as "the one who makes sure" the kids are up on time, do their homework, take baths and go to bed at a decent hour, the role of enforcer isn't one Cindy relishes. "It's a drag sometimes," she admits. "I get tired of being that person, but Rande doesn't really care about that stuff so he's not going to enforce it." One thing Cindy is clearly unafraid to enforce is the notion of respecting your elders. "I'm sorry, I love Hannah Montana for Kaia but she learns how to be sassy from that show!" Cindy laments. She adds,
"And this is a 7-year-old! I'll say to her, 'Look, I don't let anyone in my life talk to me like that, I'm certainly not going to take it from a 7-year-old in my house.'"
Cindy and Rande have been married since May 1998.
Source: The Rachael Ray Show