Got a Question for Mel B.?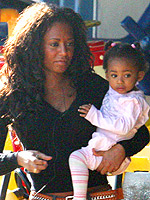 Fame
If Scary was your favorite Spice, you're a fervent Dancing With the Stars voter, or The Singing Office drew you in last summer, chances are you have a question for Melanie Brown!
The Celebrity Baby Blog will be chatting with the former Spice Girl about her new workout DVD, Totally Fit. Out February 3rd, the disc contains a 28-day plan to get you in shape! As mum to two girls — Phoenix Chi, 9 ½, and Angel Iris, 21 months — Mel B. will be talking parenthood with us as well, and we thought we'd open it up to CBB readers.
What do you want to ask Mel? Leave your questions in the comments.