Kate Hudson Looking Forward to Downtime With Ryder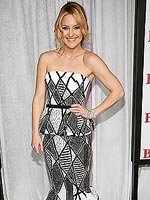 Dimitrios Kambouris/WireImage
As she promotes her new film Bride Wars — for which pulls double duty, as both a co-star and producer — actress Kate Hudson says her mind has already begun wandering to her next big project: downtime with Ryder Russell, turning 5 on Wednesday. "Right now I'm more concerned with having time off," she tells The Scotsman with a laugh. "I'm ready to have a good, solid six months with my son…I just want to do nothing for a little while."
Exactly where mother and son will "do nothing" remains to be seen. Despite her Los Angeles upbringing Kate, 29, feels "way more at home in New York." Raising kids in the Big Apple is "harder" than it is on the West Coast, however, she says.
"Los Angeles is actually nice with children because they can enjoy the outdoors more. Ryder can do activities all year round in California, such as soccer in the winter. On the East Coast it's harder, unless your kids are into ice hockey."
Ryder is Kate's son with ex-husband Chris Robinson. Bride Wars is in theaters January 9th.
Source: The Scotsman