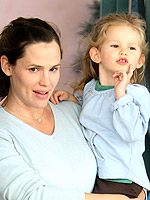 Clint Brewer/Splash News Online
It's a second daughter for Ben Affleck and Jennifer Garner! Baby girl Affleck arrived on Tuesday, January 6th in Los Angeles, Jennifer's rep confirms. "Jennifer Garner and Ben Affleck gave birth to a healthy baby girl," the statement to PEOPLE reads. No other details are immediately available. She joins big sister Violet Anne, 3.
Rumors that another baby was on the way began swirling in mid-July, and when Jennifer gave a glimpse of her bump later that month, they were all but confirmed. Still, the couple stayed mum until August, when Jennifer, 36, laughed that she found pregnancy speculation amusing, saying, "Eventually you will know, so just chill out for a minute!" When asked about any upcoming projects, the actress pointed to her belly with a grin and replied, "This."
Want to see more of the family? Check out Family Album: The Garner-Afflecks and Jennifer's All-American Maternity Style!

Source: PEOPLE