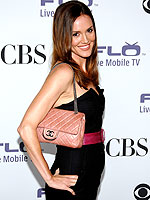 Jean-Paul Aussenard/WireImage
She may not have an accident-prone husband like her character on the TV comedy Worst Week, but Erinn Hayes does have one major thing in common with the pregnant Melanie Clayton: She's expecting!
Erinn, 32, tells PEOPLE exclusively that she and her husband, construction superintendent Jack Hayes, 34, planned the pregnancy to coincide with her character's. "I'm nothing if not an opportunist," jokes Erinn. "It's a weird thing. You have to plan your life like you're going to be on five years even if you know you could get cancelled anytime. My character was always a bit ahead of me. The first three months of my pregnancy were the first three months filming; it was really tough. I was exhausted just being pregnant, taking naps whenever I could."
The actress, who is mom to 1 ½-year-old Maggie, is due in May. If Worst Week is picked up for a second season, Erinn will resume filming the slapstick show in August. "The timing couldn't be more perfect," she says. "We're on hiatus now. If we get picked up [again], I can have a few months with the baby [before going back to work]."
So perfect that her baby could even play the role of Melanie's child? "Absolutely not," she laughs. "It would be one thing if it were twins, so that when one is crying you can switch it out."
Like daughter Maggie, Erinn says, the baby will come to set: "She loves coming to set and playing with the make-up brushes and everything. It's a great atmosphere."
Worst Week airs Mondays at 9:30 p.m. on CBS.
Source: Lisa Ingrassia for PEOPLE; Additional excerpts for exclusive use on CBB.