50 Cent and Son Bond Over Video Game Battles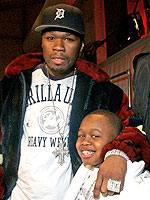 Elizabeth Lippman/Splash News
Although he is set to release his video game 50 Cent: Blood on the Sand on February 24th, rapper Curtis James Jackson, better known as 50 Cent, says that the title of reigning champion has been bestowed upon his 11-year-old gamer son Marquise. An avid gamer himself, 50 Cent shares in an interview with USA TODAY that his love for the hobby — and books — evolved when he found himself on the tour bus.
Spending his time challenging fellow rapper and father Eminem in an exciting game of Ms. Pac-Man — "[Eminem] still wants to play that" — the 33-year-old admits that facing his son is an entirely different experience. While Marquise manages to beat his father time after time, 50 Cent — who laughs "he's better than me, I don't know how this is happening" — enjoys the opportunity for one-on-one time with his only child.
"He just whips me repeatedly. I'd rather play before I even let him see it. Then, for a little while, it will be exciting because I will be beating him. We talk while we play. He says things like I would say and I'm [like], 'You're not supposed to say that, I'm supposed to say that."
Marquise is 50 Cent's son with Shaniqua Tompkins.
Source: USA TODAY