Kate Hudson Never Doubted She Would Have a Child With Chris Robinson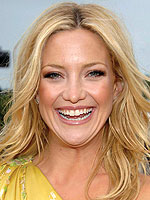 INF
The whirlwind courtship and marriage of Kate Hudson and Chris Robinson — which ended in a 2007 divorce — is something the 29-year-old actress will never regret, for it produced their son Ryder Russell, turning 5 next week. In a new interview with The Times Online, Kate reveals that the couple were set on parenthood from the very start. "When I met Chris it was like nothing else; I had no question that I was going to have a kid with him," she explains. "Every rule went out the window." Kate and Chris remain exceptionally close, even if they weren't "meant to be married," she says.
"I just had no question about him, and I still don't. He's a permanent fixture in my life, but I believe our love changed its form, it shifted…I think we were meant to have a child, and we have this amazing little boy together and therefore we'll be together our entire lives."
The ability to accept that bond will be of paramount importance for future partners and spouses. "Whoever he ends up with, whoever I end up with, we'll always be together," Kate adds. In the interview, Kate goes on to explain how her labor and emergency c-section delivery with Ryder made her view life — and death — quite differently. "I definitely started thinking about it because I just experienced birth," she says. "I experienced the closest thing to death that I am going to experience until I die." As a result, Kate approaches each day with a new perspective.
"I forget all the time and I get wrapped up in stuff, especially when things get a little spread out, like you're trying to be the best mom you can be, trying to have a career, trying to be a friend, trying to be a girlfriend. You have to go back to that place, wait a minute, bring yourself back, it doesn't matter, we're all going to die. And one day all this will be gone and what does it mean?"
Source: Times Online