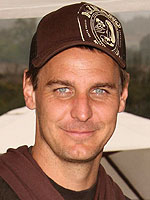 Jill Johnson/JPI
Soap star Ingo Rademacher and his fiancée Ehiku caused quite a stir with CBB readers when they announced that they had named their now 5-month-old son Peanut Kai. Ingo later shared that the name Peanut "puts a smile on everyone's face" and "kind of represented joy and happiness to us." The 37-year-old dad explains in a new interview with Soap Opera Digest that "people always end up with nicknames, so we just gave him a nickname," adding that he and Ehiku believe Peanut is "a great name." Even though their son "might go by Kai someday if he wants to," both of his parents "felt very strongly about [the name] … we were like, 'Let's just do it. We know we're going to get some slack over it.' You should have seen some of the stuff on the Internet. People were going nuts about it!" Now that the couple has shared the story behind the name, don't expect for them to do it again!
"We tried to explain it one time and we've given up trying to explain it. [We'll] leave it up to people's imaginations. If people ask, 'His name is Peanut?' We don't follow it up with an explanation anymore. We were [doing that] in the beginning and then we were like, 'We've gotta stop. It's just stupid.'"
Rather than focusing on his son's name, the General Hospital star would rather talk about the joy his son has brought him — starting with the day he found out Ehiku's pregnancy test was "so positive." The couple "had wanted to start a family" and felt like they "had everything in place in our relationship and [were] where we wanted to be…that was the next step." After having a feeling that Ehiku was pregnant, Ingo decided that he would venture out to purchase a pregnancy test.
"I was like, 'Honey, I'm running to the store around the corner [to get a pregnancy test].' When I got there, I was like, 'Well, which one is the best?' And [the clerks] were like, 'I dunno.' So I said, 'Give me all three.'"
Click below to read about their homebirth and more!
After learning of the pregnancy, the couple proceeded to find a midwife, as they knew that they wanted to have a homebirth. The couple notes that they "did checkups with the midwife [throughout the pregnancy], and we got a doula for the birth, as well." Ingo shared that Ehiku's "labor started around midnight and went to midday. I was there pretty much throughout the whole process and then, in the last five minutes, I delivered him." An experience which Ingo described as "incredible," the new dad then "picked him up, just looked at him for a couple of seconds and then put him right down on Mommy's belly."
The couple were excited for the birth of their baby, but what made the experience even more memorable was the fact that "we didn't know what we were having." Everyone was so overwhelmed after Peanut was born that "nobody checked" to find out the sex. "It was just 'Baby' was there. And 'Put Baby on her,'" shared Ingo, adding that "then the midwife said, 'Well, what is it?' And I went, 'Ohmigod, what is it?! Did anybody see?'" Since Ingo "wasn't looking at all" he picked up his new baby, "rolled him over and had a good look…I was like 'It's a boy!'" After the birth, "[The midwife and doula] stayed for a couple more hours to make sure that we were settled in and then everybody left. And [Ehiku, Peanut and I] went in the bed and slept all afternoon."
As the couple adjusts to parenthood, they naturally wanted the best for their son, so they made sure that they found a pediatrician who respects their decisions as parents and is eco-friendly. "Our doctor…he's not against every vaccine, but definitely when they're babies, he's not into vaccines," explained Ingo. "He'll do them if you want them, but he's not going to abuse you if you don't want them. [Peanut] will probably get some later on in life…but I can't imagine putting a needle in his body right now." The couple also like the doctor because of his stance on breast milk.
"Our doctor's so funny — he's like, 'Breast milk for everything.!' When [Peanut] gets a cold, he gets breast milk squirted up his nose; it's the most amazing stuff."
Ingo and Ehiku's journey into parenthood is becoming more enjoyable by the day, says the proud dad. "Now, [Peanut] will light up when he sees you from across the room. And he laughs like crazy all the time; he's so much fun now."
Source: Soap Opera Digest, January 6th issue