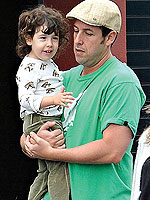 Fame
For Adam Sandler, story time with Sadie Madison — his 2 ½-year-old daughter with wife Jackie — is often an exercise in futility. "I read to my kid, but I can't stand reading," the 42-year-old actor explains. "I read like a page or two and I'll be like, 'Are we done?' And she's like…'Yeah.'" As he's shared previously, Adam's stories rarely lull Sadie to sleep — and Jackie is often needed to undo the damage!
"I tell these stories to her and she goes bananas when I'm supposed to be putting her to sleep. Then I see it's never going to happen and I'll call my wife, and scream down the hall, 'Hey you've gotta help out here, she's riled up! Put the kid out.' Then I walk [away]."
During an appearance on Jimmy Kimmel Live! late last week, Adam shared that he recently taped an episode of Sesame Street in order to please Sadie. At the end of the day he even taped a personalized greeting with Elmo, his daughter's favorite character, but — like Adam's bedtime stories — it didn't have the desired effect. "It was unbelievable. I'm in the shot, the Sesame Street street sign is right behind me, it's me and Elmo, Elmo's talking to Sadie….it's the greatest thing ever," Adam recalled with a laugh. "My kid watches it, and goes, 'Where's Barney?'"
"I went, 'What? I got you Elvis and you wanted The Beatles. It is pathetic. I thought I was the man and it went away quickly."
In addition to Sadie, Adam and Jackie are parents to Sunny Madeline, 8 ½-weeks. Adam's new movie Bedtime Stories opened Christmas Day.
Source: Jimmy Kimmel Live!