T-Boz Says Daughter Is Her World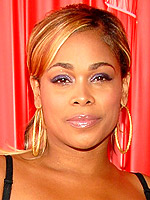 Frank Micelotta/Getty Images for BET
A "healthy and happy" Tionne Watkins, also known as T-Boz from the group TLC, tells ESSENCE.com that life is good for both she and daughter Chase Anela Rolison, 8. Calling motherhood "wonderful," Tionne, 38, says that Chase is "the sweetest thing" — and makes her mom "the happiest" she's ever been. For good reason from the sound of things! Reveals Tionne,
"[Chase] makes me breakfast in bed. She'll make me scrambled eggs or oatmeal in the microwave and serve it to me. She's my world."
Chase's dad is Tionne's ex-husband, rapper Mack 10.
Source: ESSENCE.com