Daniel Goddard Welcomes Son Sebastian William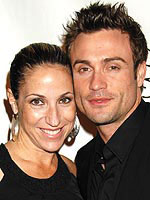 Roger Karnbad/Celebrity Photo
The Young and The Restless star Daniel Goddard and wife Rachael welcomed their second son three days ahead of schedule, on Friday December 19th. Sebastian William Goddard entered the world at 8:15 a.m., weighing 9 lbs., 11 0z. and measuring 21 inches in length. On his MySpace, Daniel writes that he took 600 pictures of the labor and delivery, which appear to have gone smoothly — and fast!
"Rachael's water broke at 4 a.m., I called one of the producers from work because I was supposed to be there at 7 a.m.!  I drove very carefully to the hospital, didn't speed at all!"
The couple's first son, 2 ½-year-old Ford Martin, is adapting well to his new role. Reveals Daniel, "Mum & baby are well and Ford is doing a great job as a big brother!" The pregnancy was announced in July.
Source: Daniel Goddard's MySpace