Faith Ford Opens Up About Fertility Struggles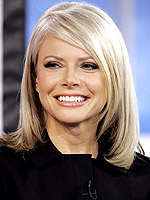 Richard Drew/AP
The road to motherhood may have been bumpy thus far for Faith Ford but the 44-year-old actress says she'll get there, someday. During her first marriage Faith admits she "was not interested" in having kids, but her mindset changed after meeting current husband Campion Murphy. "I immediately wanted to have children," she says, "and didn't realize that maybe I'd have problems." After enduring "a lot of fertility issues" including "a couple of surrogates," Faith says that she is keeping her options open — and her spirits up.
"Who knows. I might adopt or whatever. I'm a mothering-type person. It's not a matter of if it's going to be, but when. How, I don't know, but it's going to be."
Faith can next be seen in the Hallmark Channel original movie A Kiss At Midnight, airing Saturday, December 27th at 9 p.m. EST.
Source: Macon.com