In these days leading up to Christmas, Hanukkah and Kwanzaa, every mail delivery brings holiday cards from family and friends. We especially love seeing the cards with the kids! Trista Sutter was excited to share the Sutter family holiday card and chatted with us about the process in creating their gorgeous card, how they're spending the holidays, and their Christmas traditions.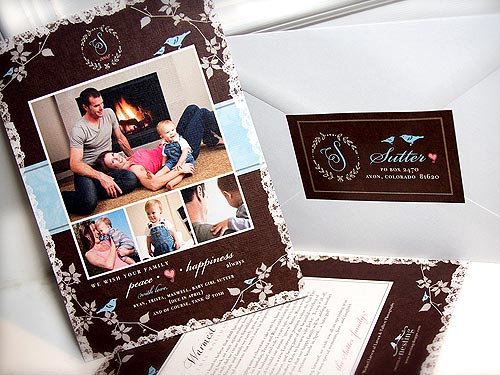 Courtesy Trista Sutter for use on CBB
Click below to read our chat with Trista and see more card photos!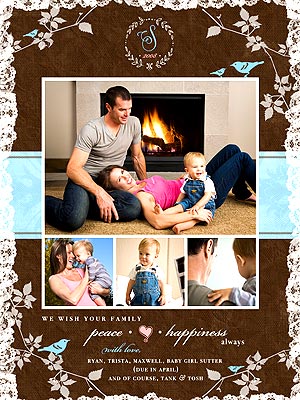 Courtesy Trista Sutter for use on CBB
Danielle: How did you find Nesting?
Trista: I was searching for the perfect card and happened to get a newsletter from Hot Moms Club. They had a section on some of their recommendations and included on there was Poppy Blossom, which was started by Jessie Preza, who in turn started Nesting Shoppe. I just fell in LOVE with her designs and got in touch.
Tell us about the shoot for the card. What was it like? How long did it take? Who was Max looking at?
The shoot was actually done by Michael Larsen of Larsen and Talbert Photography for an article in Life & Style magazine that was done to announce that we were having baby #2. Michael gave us the go-ahead to use his shots as part of Jessie's cards so they both made it super easy to create what we feel like is the perfect card.
The shoot was tons of fun. Max was in a great mood, as is usually the case. He loves attention and he definitely got that from the photographer and everyone else around that day! The shots were all taken at the Westin Riverfront in Avon, CO, in one of their rooms by the fireplace, on the bed, and then outside when all the leaves were changing. It was gorgeous.
I love how you included the new baby but we can't see your belly! How far along were you when the photo was taken? How old was Max?
Definitely! We had to include the new baby as she is already a part of our lives. We can't wait to meet her, but of course want her to stay put until she is healthy enough to make a grand entrance.  Since the photos were taken mid-October, I was JUST starting the 2nd trimester. Max was almost 15 months old.
What was the process like? Did you use a template on Nesting or did they completely customize it for you?
To create it, Jessie and I worked together to customize the card based on one of her designs that I loved (Christmas Sparrow). I wanted to use multiple pictures and I loved the brown and robin's egg blue colors.  It seemed very earthy to me, but contemporary at the same time. We changed things like font, added the monogram, a heart and some pink, and modified the edges a bit, but otherwise, it was all her creation.
She also recommended adding the Christmas note on the back, which I absolutely LOVED! And she made custom return address labels that matched our designs to a tee.
I think the note is great- I love holiday cards that have photos of my friends' kids and it's nice to have that "Christmas letter," but when they're separate, they often, well, separate and get lost.
I completely agree. I love getting letters from friends and thought putting it on the back was genius so that it wouldn't get lost.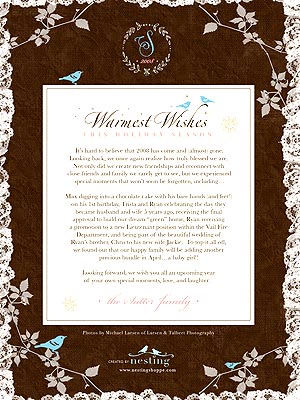 Courtesy Trista Sutter for use on CBB
Did you include the pink as a nod to Baby Girl Sutter?
In a way we included the pink as a nod to Baby Girl Sutter, but I also just thought it needed another color to liven things up, and it matched my shirt in the pictures.
I love it! And are Tank and Tosh your pets?
Tank is a 5 pound Yorkie and Tosh is a 10-year-old Siberian Husky.
How will you be celebrating the holidays this year?
We are keeping Christmas and New Year's low key this year. Ryan's parents and my mom will be coming up to the mountains for Christmas and then New Year's, we are just going to hang out with some friends… nothing too crazy.
Do you have any family holiday traditions?
We do have a few traditions… one is having a Christmas cookie decorating contest. It's so fun and hopefully Max can join in this year!  
Another is based on a story called Alfie the Christmas Tree.  I'm not sure we'll be doing it this year…at least not me, but we make birdseed and peanut butter pinecone ornaments and snowshoe up to Beaver Creek where we decorate our own Alfie (he is a Christmas Tree who feels left out because he doesn't get decorated).
Did you do the whole Santa photo thing with Max?
We haven't taken a Santa photo this year yet. It's kinda hard in Vail because we don't have a mall you can go to and the times are limited. We went last year and will definitely try as I love looking at those pictures throughout the years.
We actually just got back from a trip to the Hyatt Regency in Huntington Beach. It was FABULOUS!  Gorgeous hotel. That will most likely be our last trip before the baby comes as I just get nervous to travel and want to be near my doctors.
Was that the big trip with the couple from the contest we last spoke to you about?
It was. It was great. The couple was super sweet and the food was amazing!  It really is a beautiful property.
What's up next besides the baby for the Sutters?
We are actually getting ready to build a new "green" home. We are hoping to start right after the baby is born, when the snow melts around May and move in a year or so later. We are hoping to get it LEED certified, which will make it one of the first in our town, which is exciting.  And, Ryan designed it with his dad, who is an architect in Ft. Collins, so it will really be special once it's completed. We try to incorporate the environmentally friendly lifestyle as much as we can.
Otherwise, I'm still working on Trista Baby and Ryan is still at the fire station (he did recently get a promotion though to Lieutenant, so he is "more" hard at work than before!).
Is your diaper bag line, Trista Baby, still available at eBags?
Yes, although we've added lots of online and retail stores who sell on a wholesale basis as well.  They are listed on www.tristababy.com.
– Danielle
CBB Deal: Save 10% on your order at Nesting Shoppe when you use coupon code CELEB10.