Luis Miguel and Aracely Arámbula Welcome Son Daniel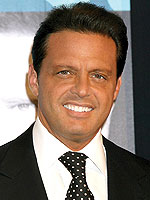 Jon Radial Press/Startraks
Mexican pop singer Luis Miguel and Mexican actress Aracely Arámbula have welcomed their second baby boy together! Son Daniel was born at 10:55 a.m. on Thursday, December 18th in Beverly Hills, Calif., weighing in at 6.6 lbs and measuring 20.86 inches. After delivering her son naturally, Aracely, 33 — who admits fearing she would welcome her baby boy in the car after her water broke — shares that the raw experience of childbirth was well worth it.
"I am convinced that women are very brave, my respects for all mothers, especially now that I know what it's like to experience this pain without anesthesia…but the great fortune of being a mother makes any pain well worth it."
Daniel joins big brother Miguel, 2 next week, and Luis' daughter Michelle Salas, 18, from a previous relationship. The pregnancy had been announced in July.
Source: Todo Bebe