Sound Off! How Did You Decide How Many Children to Have?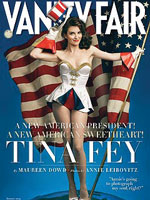 Courtesy Vanity Fair
In a recent interview with Vanity Fair magazine, Tina Fey shared her preference for having just one child. Describing the year after birth as feeling "like someone hitting you every day in the face with a hammer," the actress, rightfully, said she and her husband were devoted instead to focusing their energies on their only child, daughter Alice Zenobia.
However, some families choose to have 2, 3, 4, 5 or more children (some even 18 — and counting!), and as we all know, it's a very personal choice (and oftentimes, not even a choice at all, thanks to mother nature).
So here's your chance to Sound Off! Tell us how you decided how many children you wanted to have.